Pastoral Care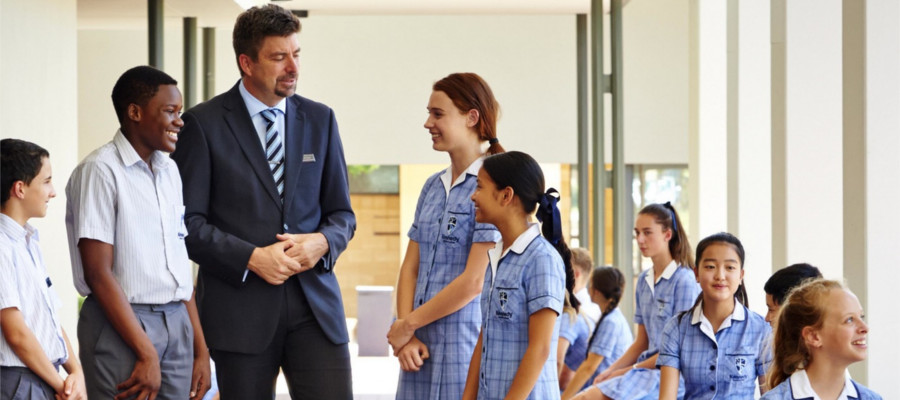 Our Pastoral Care goal at Kennedy is:
"The creation and maintenance of a safe, nurturing and engaging educational community where students can thrive academically, socially, emotionally, physically and spiritually."
The Kennedy Journey: At Kennedy Baptist College, our students are on an important journey. From childhood, through adolescence to adulthood, this journey requires support, encouragement, guidance and nurture for it to be as smooth and successful as possible. Read more about The Kennedy Journey.
Our Pastoral Care Team is passionate and dedicated to working in partnership with families to support holistic student well-being. Our team includes the Director of Students, Heads of Year, Form Teachers, Classroom Teachers, a College Psychologist, College Counsellors and College Chaplains.
Heads of Year are the first point of call for all Pastoral Care issues and we encourage our families to feel free to contact them about any matter. View contact details for all Heads of Year.
Nourishment Programs are embedded in our daily curriculum to provide extra assistance for our students. These include Year 7 transition programs (Thrive and SMARTS), Year 9 gender-based programs (Resilience Program), Year 11 study skills programs and the Staff/Student Mentoring program in Year 12.
Our House System is made up of Stirling, King, Forrest and Eyre houses. This system is designed to enable students to further develop a sense of identity and belonging at Kennedy as they participate in a range activities including the Arts Cup, carnivals, and other weekly events in competition for the annual Kennedy Cup.
Pastoral Care Programs are an important part of Pastoral Care at Kennedy and include Weekly Pastoral Care periods, Positive Behaviour, Study Skills, Peer Support, Resilience Building, Cyber Safety, Year 7 Transition, Student Leadership, Year Group Camps, Community Service and Mentoring. Read more about the Kennedy Pastoral Care Programs.
The Community Service Program at Kennedy gives students the opportunity to make a difference in the lives of others while also developing their own skills and awareness. There are many organised activities including working with Swan River Trust, Red Cross, Native Ark, Cockburn Council, St Bartholomew's House. Additionally, each year Kennedy takes a group of students to Cambodia to undertake community work. Read more about the Kennedy Community Service Program.

---
The Kennedy Journey
The Kennedy Journey begins on students' first day of Year 7 with their participation in the College Commencement Ceremony, and continues right through to their final day of Year 12 and the College Graduation Ceremony.
Each year the College undertakes a comprehensive mentoring program to ensure the incoming Year 7 students enjoy a smooth transition in becoming members of the College community. The program is known as 11/7s and involves training a select group of Year 11 students and giving them special responsibility for mentoring the Year 7s throughout their first year of secondary schooling. The program has many elements, including Orientation Day, Pre-Start Day, Welcome Ceremony, Welcome Week and weekly catch-ups, all designed to assist the incoming students.
Year 7 Thrive is a weekly program that explores a range of topics including cyber safety, rights and responsibilities, emotional literacy, digital citizenship, personal strengths and positive coping. Year 7s also undertake the SMARTS program through the Research and Study Centre which involves study techniques, preparing for exams, completing assignments and overall transition into secondary school studies.
Year 8 Adventure Camp is separated into genders to provide opportunities for students to grow, develop and discuss specific gender-related topics. Activities include ski biscuiting, canoeing, rafting, and a flying fox.
Year 11 Transition program assists students in the transition to upper school, focusing on relaxation and stress management, personal organisation skills, exam techniques and time management strategies, all designed to enhance enjoyment and success with their senior school studies. Year 11 Camp is held at Rottnest and involves fun as well as students reflecting on their life journey.
The Year 12 Staff/Student Mentoring program involves each Year 12 student choosing a staff member to mentor them in their final year at the College. The students meet regularly with their mentor to go through a program of support which includes assisting with any issues, helping with tertiary applications, reviewing study and exam schedules and overseeing graduation requirements. Students find this extra support of great benefit in their final year at the College.
Year 7 TRANSition into High School
Orientation Day
Pre-Start Day
Device Induction
New Uniform
College Commencement Ceremony
11/7s Transition Program
Select Elective Course
SMARTS Program
Thrive Program
Community Service: Serving the elderly at Lakeside Senior
Year 8 Enjoy School
Adventure Camp
Select Elective Course
Positive Education Program
Thrive Program
Community Service: Serving the elderly at St Ives
Year 9 Who Am I
First Set of Exams
Resilience Program
Positive Education Program
Community Service: Serving the homeless
Year 10 Where Am I Going
Careers Education
Work Experience
Keys for Life: Drivers Education Program
Subject Selections
Dinner and Dance
Community Service: Caring for the environment - Revegetation
Year 11 How to Get There
Commence WACE
New Subject Pathways
Transition Camp
Year 11 Mentor
SAS Representation
River Cruise
Community Service: Caring for Nature - Native Ark
Year 12 Prepare to Launch
College Ball
Year 12 Staff / Student Mentoring
Common Room
Leavers Jacket
Spring Fling
Completing WACE
Final Assesmbly and Walk of Honour
Graduation Ceremony
---
Pastoral Care Programs
Weekly Pastoral Care
The College allocates a period each week specifically to build into the well-being of students. The themes explored include protective behaviours, identity, self-worth, drugs and alcohol, cyber safety, resilience, road safety, relationships, gender issues, stress, bullying, protective behaviour, communication, team building, leadership, organisational strategies and spiritual growth. In this time a range of external partners are engaged, including the Zero to Hero Foundation, UWA, RAC, Cyberbusters, Teen Challenge, Headspace and Youth for Christ.
Student Leadership
Kennedy recognises the vital role of student leadership in developing the life of the College. The Student Leadership Program provides opportunities, mentoring and training for students to actively participate in the decision making processes at the College as well as developing lifelong leadership skills.
The leadership opportunities that exist at Kennedy currently are: Head Boy/Head Girl, Student Councillor, House Captain,11/7s Mentor, Peer Mentor, Red Cross Blood Ambassador, Chaplain's Leadership Group, Sonlife Fundraising Team, Auditorium Technicians Team, 40 Hour Famine Representative, Peer Activity Leaders (PAL) and the Transform Cambodia Leadership Trip.

---
Community Service Program
Kennedy Baptist College is focussed on providing a holistic education for all students and this includes encouraging an attitude of care and concern for wider society and the environment. As a College, we provide many opportunities for our students to actively participate in our Community Service Program. Our motto for the program is "Other People Matter."
Each year the College provides a range of service-learning opportunities including:
'Memories Project' with a local seniors' group
Working with St Ives Care Facility Murdoch
Serving the homeless through St Bartholomew's House
Assisting Cockburn Council with their tree planting projects
In addition to the above initiatives Kennedy students also support the Operation Christmas Child, World's Greatest Shave, Compassion Australia Child Sponsorship and the Cancer Council, and many other organisations.
Each year the College also responds to natural disasters and the sudden needs of people affected by such crises.
The College is also involved in overseas community service trips. Each year we take a group of students to Cambodia to assist the local communities. These trips allow the students to be actively involved in local building projects, living and working in orphanages, teaching English, caring for children and the elderly and supporting local workers.
Please feel free to contact us regarding any Pastoral Care matter.
Wendell Pether
Deputy Principal Pastoral Care