Instrumental Music Program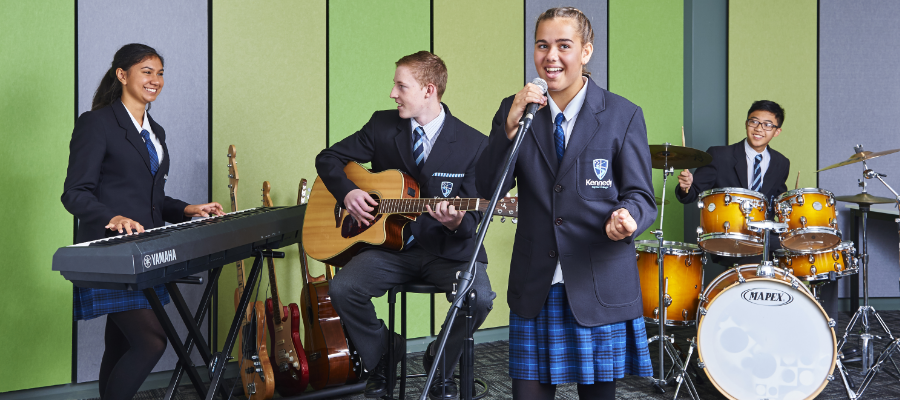 Students have the opportunity to learn an instrument during College hours from our highly trained and experienced music tutors. Whether continuing to learn an instrument or a beginner, specialist staff can match students to a tutor.
Students have the opportunity to choose from the following:
Voice
Guitar(Acoustic, electric, bass)
Violin
Cello
Ukulele
Clarinet
Saxophone
Flute
Trumpet
Trombone (New in 2020)
Piano/Keyboard
Drums/Percussion
Classes are held on a rotating time schedule so students can participate in Kennedy's Instrumental Program and not miss any one particular lesson.
ENSEMBLE COMMITMENT
All students enrolled in the Instrumental Program are expected to be involved in an ensemble as soon as they reach the appropriate level of performance. Students are allocated to an appropriate ensemble that rehearses either before, during or after school. Kennedy sponsors the Ensemble Program and there are no fees attached.
Types of ensemble/band:
Stage Band
ATAR Band
Contemporary Band
Vocal ensemble
String ensemble
Junior Guitar ensemble
Specialist Guitar ensemble
Percussion ensemble
Performance Opportunities
The College provides performance opportunities for students in the Instrumental Program and Ensemble Program through concerts, assemblies and other formal events, some of which are compulsory.
Lesson Type, Duration and Fees
Tuition occurs once a week on a one-to-one basis with a qualified instrumental teacher, each lesson being 30 minutes in length, with an average of nine lessons per term.
Some instruments may have shared lessons available as advised by the tutor and Instrumental Music Coordinator. The maximum number for group lessons is two students.
Fees:
One on one weekly private lesson for 30minutes. Cost $34
Shared weekly lesson for 30minutes. Maximum number for group lessons is 2 students, advised by the tutor and Instrumental Music Coordinator. Cost $22
Lesson Timetable:
Timetables are distributed to all instrumental music students at the start of each term, these are entered on SEQTA on a weekly basis, which is a prompt to both students and teachers of the exact time and location of lessons. Timetables are also displayed on the Arts noticeboard and in the window of room 6.9.
It is the responsibility of the student to catch up on any work missed.  Before school, lunch and after school lessons are prioritised for Senior School students or students learning multiple instruments at school.
Enrolment Timeline:
For lessons to commence, please be advised of the following enrolment timeline:
Lessons commencing at the beginning of the year - Enrolments close in mid-January each year.
Lessons commencing mid year - Enrol by week six of the previous term.
Click here to view Frequently Asked Questions.