Academic Excellence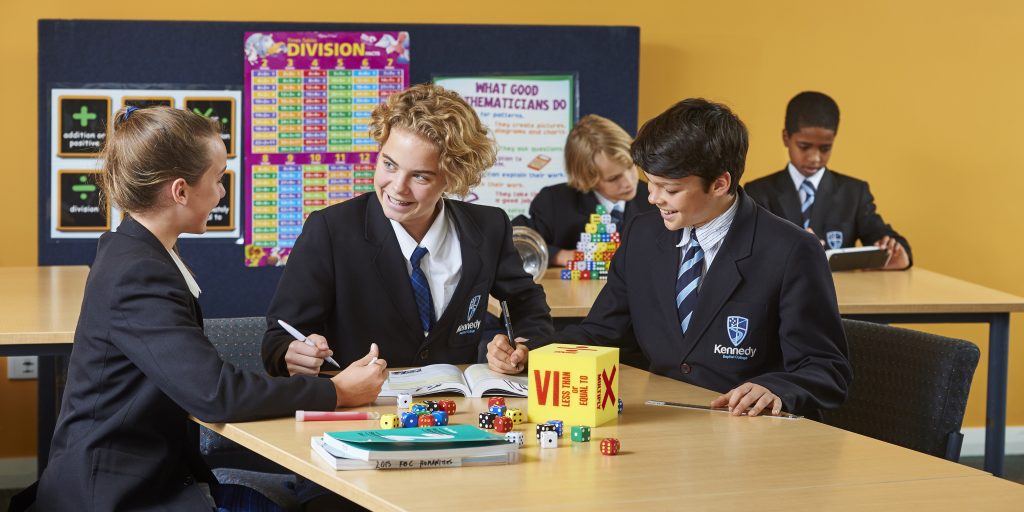 At Kennedy Baptist College all students are expected to strive for personal excellence in all that they do. We provide a broad-based and relevant curriculum, which represents a holistic approach to the education of the students under our care. Our goal is to offer students a wide range of opportunities to develop their understanding and knowledge of the world around them and to foster their God-given talents and abilities. Our graduates need to be prepared for the rapidly changing and technology-centred world that they are now a part of. Our curriculum is designed to encourage creativity, flexibility, problem solving and collaboration, all necessary attributes of a 21st century learner.
The Deputy Principal (Curriculum), Director of Studies, and Heads of Learning Areas coordinate the curriculum content and assessment processes across the College, in accordance with School Curriculum and Standards Authority guidelines.
Students in Years 7 to 10 follow the Western Australian Curriculum and Assessment Outline, an adaptation of the Australian Curriculum, as prescribed by the Schools Curriculum and Standards Authority. Students in these year groups also have the opportunity to choose from a diverse range of elective subjects. Students in Years 11 and 12 work towards the Western Australian Certificate of Education in either an ATAR (University Entry) pathway or a more vocationally-oriented General pathway, including a number of VET (Vocational Education and Training) options.
As the majority of students at Kennedy Baptist College enter university at the completion of Year 12, the College has a curriculum that extends and enriches students throughout Years 7 to 10, through exposure to curriculum content above their year level.
This is further enhanced by a streaming process whereby students are placed into one of four levels according to individual performance.
​​​​​Stream 1 (Extension) is the academic extension class and is aimed at students who have demonstrated a very high capacity and potential in these areas.
​​​​​Streams 2 (Advanced) and 3 (General) follow the same curriculum as Stream 1 but are assessed at a less demanding level.
​​​​​Stream 4 (Foundation) is typically for students who struggle in the subject area. These classes follow a modified curriculum.
Students entering the College in Year 7, with the exception of those gaining entry to the Kennedy Enrichment and Extension program, are placed in unstreamed classes. Each student has the opportunity to make a fresh start from their primary schooling and work to their best ability before classes are streamed. The only streaming that takes place is in Mathematics during the Semester Two.
In Year 8, students are streamed for Mathematics and in Year 9, for Mathematics and Science. At the conclusion of each semester, these classes are reviewed and where necessary, changes are made. Any change to a class group will be conveyed in writing to the student's parents. English and Humanities classes are not streamed in Years 8 and 9.
In Year 10, the four streams in Mathematics and Science are continued, while English and Humanities introduce two streams: Extension and General.
The College's Assessment Policy can be accessed on our website.