Bring Your Own Device Program
What device does my son or daughter need at Kennedy?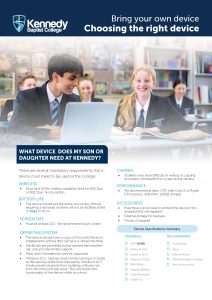 There are several mandatory requirements that a device must meet to be used at the College:
Wireless
Must have 5GHz wireless capability (look for 802.11ac or 802.11ax)
Battery Life
The device must last the entire school day without requiring a recharge, as there will not be facilities at the College to do so.
Screen Size
Must be at least 10.1" and no more than 15.6', we recommend touch screen.
Camera (optional)
Students who have difficulty in writing or copying accurately will benefit from a rear facing camera.
Operating System
The device should have a copy of Microsoft Windows installed and running (this can be in a virtual machine)
Macbooks are permitted but be advised that teachers can only provide limited support.
IPads and Chromebooks are not supported.
Windows 10 S: Laptops must not be running in S mode as the security restrictions imposed by Windows 10 S mode prevents students from installing software not from the Microsoft App store.  This will restrict the functionality of the device whilst at school.
Performance
We recommend at least: CPU Core i3 or Ryzen 3 Processors, 4GB RAM, 128GB storage.
Accessories
Must have a good case to protect the device from accidental damage which happens.
External storage for backups, mouse if desired.
List of Recommended Devices:
Whilst the College does not endorse any particular device, we regularly get asked for suggestions on devices that are suitable for use at the College. Based on the BYO program, and our experience with student support, we have seen the following devices used successfully at the College:
It is imperative that you check before purchasing any device that meets the College's minimum requirements. The above devices are provided as guidelines and you should be able to get a better price if you shop around, especially during sales. However, there is a range of devices at a variety of prices that are suitable.
Remember, the ICT team are here to help, so feel free to contact them if you have any queries on your son/daughter's device.
Please note: Licensed copies of all required software applications will be provided for students to install as necessary - this includes Microsoft Office.
---
Device Induction Sessions
In order to ensure that students and their computers are ready for commencement at the College, the Kennedy ICT Department run Device Induction Sessions in January before the start of each school year. Click here to book your session.
These sessions are designed to address the following:
walk each student through the basics of our BYOD program;
confirm that their computer meets the minimum requirements;
offer training on how to access required programs;
provide information about the network resources available Kennedy.
For further queries please contact the College, or email the IT Team.