Kennedy Insights
Kennedy Insights is a series of seminars designed to help equip our families with the knowledge, skills, and confidence to support their children's safety and wellbeing.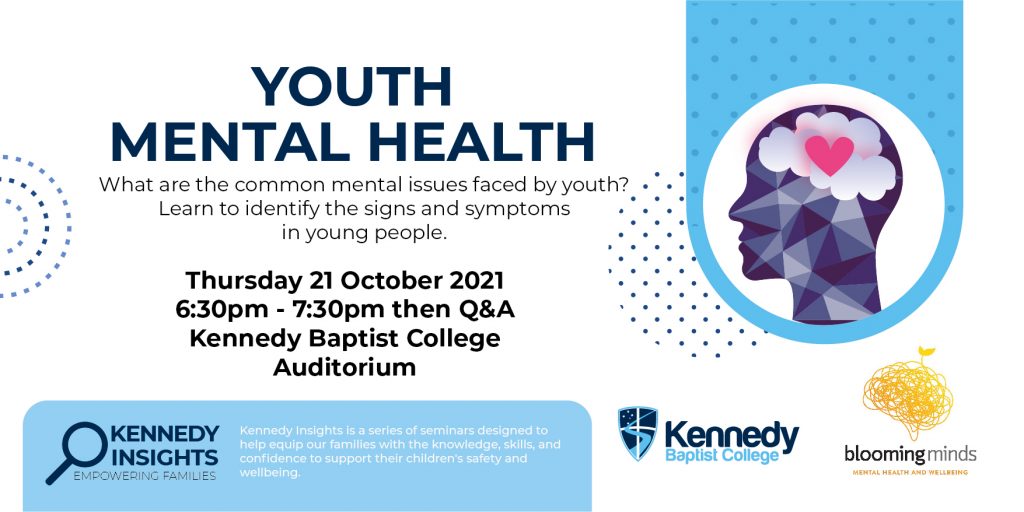 Term 4: Thursday 21 October 2021
Youth Mental Health
What are the common mental issues faced by youth?
Learn to identify the signs and symptoms in young people.
Adolescents undergo a period of great change that involves a range of physical, social, emotional, and academic challenges. It is a critical stage of development with increasing pressures from many environments. The mental health of our young people is vitally important, and this is reflective in the increase in incidence of mental health disorders and reports from adolescents themselves.
Topics and themes covered in this presentation include:
• Common mental health issues faced by youth
• Signs and symptoms of mental health issues
• How parents/care givers can support their child
• Discover the supports & resources available for you and your child
This event is for adults only and bookings are essential.
Click here to book a spot.
Questions? Ideas for future workshops? We would love to hear from you!