International Students
Kennedy Baptist College is a registered provider for Full-Fee Paying Overseas Students (FFPOS). The College's Commonwealth Register of Institutions and Courses for Overseas Students (CRICOS) Provider Number is 01688K. The College complies with all legal requirements relating to the enrolment of overseas students.
Kennedy Baptist College welcomes international students on the following basis:
They are able to provide proof of English language competency. Before beginning secondary school at Kennedy Baptist College, International students must be able to provide evidence of English competency (speaking and listening; reading and responding, and writing) to enable them to succeed in mainstream classes. International students who are not proficient in English language skills are required to attend an Intensive English course before being considered for a place at the College. Though a number of Perth academies offer suitable intensive English courses, our preferred private English language academy is the Phoenix English Language Academy.  Refer to the International Students English Language Proficiency Policy for detailed requirements.
They pay full fees.
Their family/agent arranges homestay boarding facilities, within Australian legal parameters.
They should not be above a certain age upon enrolment at the College.
Students should not be more than 18 years and six months old at the time they propose to commence Semester 1 of Year 11. This is a government requirement.
Their visa is approved.
They can provide proof of Overseas Student Health Cover (OSHC) to cover the period of their visa. Health cover may be obtained through the College.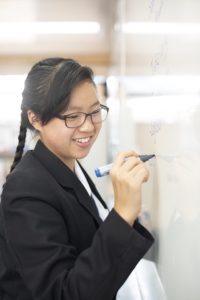 International Enrolment Information:
Australian Education Services for Overseas Students (ESOS) Information:
To request an Application for Enrolment - International Students form and for any further enquiries please contact the College Registrar via email or phone +61 8 9314 7722.
Please note: The College does not engage the services of, or pay commission to agents.
Overseas Immunisation Records
Parents/guardians of children from overseas enrolling into Western Australian schools are required to provide their child's Immunisation History Statement.
The College cannot accept overseas vaccination records.
Parents/guardians need to provide any information about their child's overseas vaccinations to a local immunisation provider; for parents/guardians located overseas, they are advised to contact the relevant Public Health Unit.
The local immunisation provider can:

register the child on the Australian Immunisation Register (AIR);
upload any previous vaccinations to the AIR and
provide any overdue vaccinations to the child.
Following updates to AIR, parents/guardians can call the AIR General Enquiries Line on 1800 653 809 to request an Immunisation History Statement.
If translating services are required:
It is recommended that immunisation providers contact their local public health unit to organise these documents to be translated; or
Overseas immunisation records can be sent to the Department of Social Services who provide a free document translating service for permanent residents and select temporary or provisional visa holders.
For further information find attached the WA Immunisation Requirements (Department of Health WA)
Fees and Charges 2021
Kennedy Baptist College student fees cover tuition associated with the College's Academic, Cocurricular and Pastoral Care Programs. Textbooks and other course materials are purchased separately.
Full Tuition fee $19,226 per annum
Resource Fee
| Year | Annual Fee |
| --- | --- |
|  7 | $ 185 |
|  8 | $ 160 |
|  9 | $ 110 |
| 10 | $  77 |
| 11 | $  45 |
| 12 | $  77 |
The resource fee covers additional resources associated with each year group including (but not limited to) licensing and online subscriptions.
Download the fees and charges brochure below:
Fees For Next Year
Fees for subsequent years are confirmed by the College Board, around November each year. All families will be advised of the new rates via the College newsletter and website.
Finance Department:
Available hours: Monday to Friday 8:00am - 3:30pm