The Kennedy Story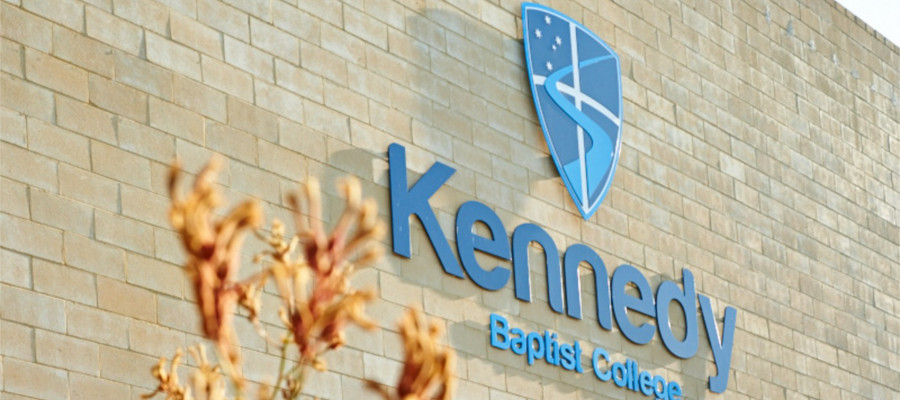 About Kennedy Baptist College
Kennedy Baptist College is a quality coeducational Christian school for students in Years 7 to 12, located in Perth's southern suburb of Murdoch.
Kennedy Baptist College was formed in 2013 after the amalgamation of two neighbouring Colleges: Winthrop Baptist College and Somerville Baptist College (established 1994 and 1999). It is now home to approximately 1,200 students.
At Kennedy, students are expected to strive for personal excellence in all they do. Our students learn to see life's opportunities as theirs to seize and obstacles as challenges to overcome.
Every student is part of a safe and caring Christian community which nurtures their confidence and character.
Students thrive in our positive learning environment where they are required to display high standards of behavior, which are reinforced by our exceptional Pastoral Care Program.
About William Kennedy (1868-1929)
Kennedy Baptist College was named after William Kennedy, a pioneer of the Baptist movement in Western Australia. His passion and determination saw him overcome seemingly insurmountable odds to establish churches along WA's Great Southern Railway, the Goldfields and the Eastern Hills. Kennedy was renowned as a man of integrity and fearless courage by the communities he served.
Most outstanding was his courage and boldness. When others considered a task unreasonable or impossible, Kennedy would just go ahead and start it.  He spoke of the 'push' policy, "I will find a way or make one".
When Kennedy set his mind to something, nothing could stop him. His passion and determination was infectious. In rural communities where farmers struggled to survive and many died or walked off the land, he inspired everyone to enthusiastically contribute to church buildings with money, resources or labour.
William Kennedy was seen as a man of integrity and trustworthiness. He won the respect of the communities he worked with. This reputation enabled him to speak out defiantly against wrongdoing, yet be gentle with people. He was unselfish and forbearing in his dealings with people, but bold in his defense of right and unrelenting in his attack on wrong.
Through all the difficulties and hardships Kennedy faced in his life, his faith never wavered, and his vision never grew dim.
The way in which William Kennedy seized obstacles as challenges and overcame them is inspirational. His dogged but cheerful courage is a beacon to all generations.