Policies
Quick links to the Kennedy policies:
Kennedy Handbook
The Kennedy Baptist College Handbook is designed to be a useful resource for both students and parents to gain a thorough understanding of life at Kennedy. The handbook provides an overview of Kennedy values, facilities, staff, learning, guidelines and policies, procedures and much more.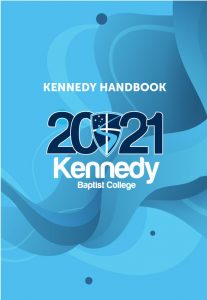 Policies included in the Kennedy handbook:
Read through the 2021 handbook here.
- Discipline Policy
- Bullying Prevention Policy
- Mobile Phone Policy
- Attendance Policy
- International Student
- Uniform Policy