Meet the Principal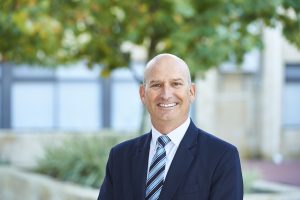 The Principal at Kennedy Baptist College is Mr Mark Ashby M.Ed. (Hons). He leads a team of experienced educators to provide educational opportunities of excellence in a Christian context. Kennedy is home to over 1,200 students who are expected to strive for personal excellence in all that they do.
Mark was the inaugural Principal of Kennedy when the College was launched in 2013, while he was also the foundation Principal of Mandurah Baptist College in 2005. Mark has also held several roles in the public education system during his career.
Mark is a member at Mount Pleasant Baptist Church.
Qualifications:
Bachelor of Education and Major in Science Education (1984)
Post Graduate Diploma in Education Studies and Major in Educational Administration
Master of Education
Major - Educational Administration
Master of Education Honors
Dissertation - Curriculum Change and the Unit Curriculum: A Retrospective Analysis