The new Kennedy Technologies Centre is a dedicated STEM facility that provides an excellent space for woodwork, metalwork, engineering and CAD studies. The new classrooms and workrooms are complemented by a breakout space on the 1stfloor. The TechnologiesCentre is a wonderful new facility for our students to engage in cutting edge technologies and explore creative and innovative solutions for their STEM studies.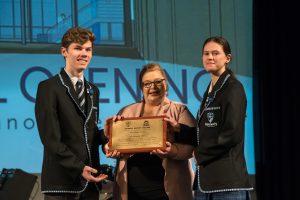 This project was jointly funded by the Western Australian Government under the Low Interest Loan Scheme and Kennedy Baptist College. The official opening took place at the end of term Assembly at the College on 23 September. The Hon Sue Ellery BA MLC, Minister for Education and Training declaredthe Centre openand presented the commemorative plaque to Head Boy Will Lawler and Head Girl Amber Clifford.
Kennedy Baptist College Principal Mark Ashby said that there has beenincreasedinterest in Design and Technologiessubjectsfor next year. Hesaid, "We hope that the new facilities will create an environment for our students to think out of the box, understand the ways that science, maths, and technology work together. That they become increasingly curious about the world around them and feel empowered to change it for the better."
Despite the uncertainty of 2020, the project was still finished on time. With all equipment being available for installation as scheduled.
The Technologies buildwas the final stage of theeight year master planwhich began in 2013 when Winthrop and Somerville Baptist Colleges merged to form Kennedy Baptist College.Students at Kennedy can now enjoy the facilities that werejust a dream back then and can continue to develop their ambitions and prepare themselves for a bold future.