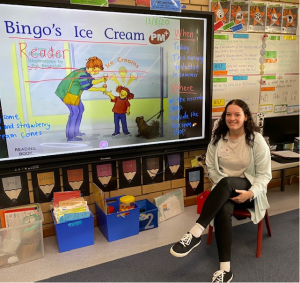 Year 11 and 12 students at Kennedy have the opportunity to enhance theireducation by engaging in Vocational Education and Training (VET) courses while still at school. VET students do off campus studies in training organisations such as TAFE and some are required to do work placements. In this issue, we feature Ely Greenshields, a Year 11 student enrolled in the Certificate III in Education Support at the Fremantle Education Centre:
What got you interested in your VET course?
The VET course Cert III in Education Support made me interested as it gives me the opportunity to work on my future career in teaching and gives me the qualification to become an Education Assistant after I graduate from Kennedy.
How long have you been studying this VET course and what happens during a typical training day?
I have been studying this VET course for almost three terms. When we are in class,  we work through our cluster book together. There are regular hands-on activities where we either work in groups or on our own. Everything we learn is relevant, interesting and fun.
What is the most interesting aspect of training for this VET course?
Honestly, I found all of the training interesting and fun. I really loved creating resources that I can actually use in a classroom setting and that I will most likely use in the future. I also loved making new friends from many different schools.
What is the most challenging aspect of training for this VET course?
The most challenging aspect is the final, end of course practical booklet. It has many activities relating to the practical work that we have to fill in often.
How do you manage to juggle between curriculum studies and your VET course?
We are given a study period every day which makes it a lot easier to juggle curriculum and VET studies. Also working outside of school most days.
Any other comments you would like to make about the VETdSS program?
Highly recommend choosing a course if interested in it. I really enjoy it as I am interested in the subject I really enjoy and look forward to Thursdays because of VET.
Interviewed by Mr Ernesto Ramirez
VET and Workplace Learning Coordinator