We took some time to interview Phoebe Elms, a Year 12 student enrolled in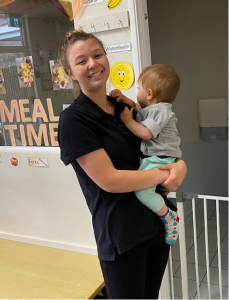 a Certificate II in Community Service - Early Childhood sector:
What got you interested in your VET course?
I was always interested in helping others and one day becoming a nurse. Helping young children at a childcare centre comes close.
How long have you been studying this VET course and what happens during a typical training day?
I started the course at the beginning of the year through South Metro TAFE in Rockingham. I go for training on Fridays but I'm on work placement on Tuesdays. Work placement on Tuesdays begin with me clocking in at around 9..00am in the morning. I'm then allocated a room to help out in. At the moment I'm in the baby and toddler's room. I pretty much help with the feeding, changing and keeping them occupied. They like lots of cuddles and being carried around.
What is the most interesting aspect of training for this VET course?
The most interesting aspect is interacting with the children. It can get challenging at times especially when they get upset and cry, but learning how to handle these situations in real life is very important for me.
What is the most challenging aspect of training for this VET course?
Sometimes the babies get upset and cry, so I need to know how to handle these situations. Are they upset because they're hungry? Because they got hurt? Or because they need their nappies changed? It's a good thing that I can always rely on the help of the experienced carers at the centre.
How do you manage to juggle between curriculum studies and your VET course?
It's important to take advantage of my extra study periods in order to catch up on school work. It's also very important to ask questions from teachers.
Any other comments?
I would recommend taking up the chance to do a VET delivered to the secondary students (VETdSS) program. It has allowed me to learn outside the classroom and experience work life. I know that the skills I'm learning at the workplace will also help me to hopefully one day become a nurse.
Interviewed by Mr Ernesto Ramirez
VET and Workplace Learning Coordinator