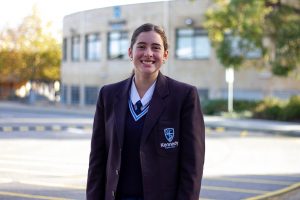 Student: Lily Oversby
Year: Year 11
Graduation Year: 2021
Lily is a Year 11 student who loves all things art and being creative. She is quiet and diligent and she enjoys walking or jogging with her friends.
When Lily arrived at Kennedy she was surprised at how encouraging the College environment was. The Study Skills Program and sessions in Year 11 have really helped her find what works best for her when it comes to studying and preparing for assignments and exams. Lily currently studies Psychology ATAR, English ATAR, Health Studies ATAR, Visual Arts ATAR, Modern History ATAR and Integrated Science General, and she really enjoys Modern History, especially in the Media and Film eras gone by.
Lily is very talented in Visual Arts! She received the award for the top marks in Year 9 and that has encouraged her to pursue art even further. She recently completed a beautiful artwork called "Someone Else". It is a mixed-media self-portrait that features mirrors and false reflections where reality is captured within the different mirrors.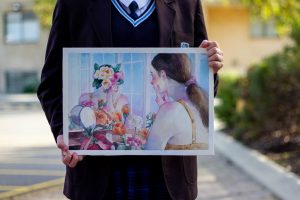 Lilly has learned so much about herself in the last few years. She said: "I have learned so much about myself. I am far more capable to do the things that I want to achieve. I have also realised that I have slowly been coming out of my shell when it comes to social events and being talkative to people. I feel far more connected to my friends and the Kennedy community."
Her advice for Year 7 students is to just do your best, whatever your best may be in your current circumstances, to go by your own standards, rather than your peers.
Lily mentioned that once she graduates from Kennedy, she will surely miss the learning opportunities that Kennedy offers and she also will miss the support that the tightly knit community exerts. She truly has found that the unconditional support here at Kennedy allowed her to grow to be a better person.