As part of the two week National Tour to Perth, Bunbury, Margaret River, and Denmark, 56 girls from the Australian Girls Choir shared their love of singing and performing with Kennedy Baptist College Performing Arts students through a day of dance, drama and singing workshops.
Traveling from NSW, QLD, VIC, and SA, these girls were also hosted by the families and staff of Kennedy Baptist College which was their final destination at the end of their annual National Tour that commenced on 21 June. They also performed at Kennedy for all the students during the last week of Term 2.
What a fantastic opportunity to learn from this highly motivated and polished group of young ladies and to hear them perform live.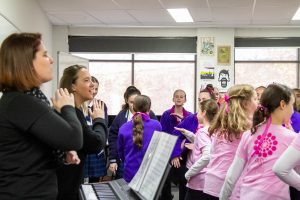 About the Australian Girls Choir
Founded in 1984 by Judith Curphey OAM with 150 girls, the AGC has blossomed to over 6,500 girls currently in training across Australia in the cities of Adelaide, Brisbane, Canberra, Melbourne, Perth, and Sydney.
The girls perform with a vibrancy and energy that has been embraced by millions worldwide. Our achievements over the years include: singing for Nelson Mandela, Queen Elizabeth II, President Barack Obama, Dalai Lama, Oprah Winfrey and Ellen DeGeneres, with celebrity artists including Pharrell Williams, Hugh Jackman, Ronan Keating and Jessica Mauboy and at major events including the Australian Open Tennis Final, AFL Grand Final and the Melbourne Cup.
Further afield, the AGC has toured on over 40 occasions with their voices reaching almost every corner of the globe. An audience with Pope Benedict XVI, performance for the King of Tonga, UNICEF benefit concert at the Hanoi Opera House and the Shanghai World Expo are just a few of our international accomplishments.
A true recognition of the choir's success is its selection by Qantas to represent the 'Spirit of Australia' in the hugely successful 'I Still Call Australia Home' advertising campaigns, which have captured the hearts of the nation. Many thousands of choristers have been involved in the filming of the advertisements in exotic locations around the world and in hundreds of high profile performances for Qantas since 1998.