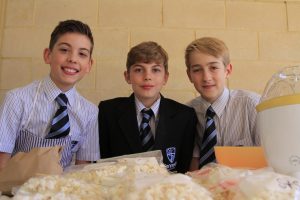 The Year 7 Kennedy Enrichment and Extension Program students in Humanities have been learning about running a small business. They put their theory into practice by holding a Market Day and selling food for the entire College during lunch time.
The students approached the stalls like a real-life business and carried out a lot of planning and coordination to bring Market Day to life. They created quite a buzz because each stall was decorated with their poster and filled with eager customers who were wanting to get their hands on some of the delicious treats that were on sale. Some of the item on sale at the stalls were popcorn, cupcakes, cookies, brownies, lollies, hot chocolate and toffee apples.
More photos to follow.
Learn more about the KEEP program
here
.