At Kennedy Baptist College we place high value on the social and emotional development of the students in our care and we are constantly developing and implementing programs across all year groups.
A large focus of our efforts has been placed on the development of skills and education around Protective Behaviours. We take the safety of students at our College very seriously and are currently implementing a range of curriculum topics to address these concerns and educate students about enhancing their safety.
The current Year 7-12 Protective Behaviours Curriculum addresses aspects of:
The right to feel safe
Relationships
Recognising and reporting abuse
Protective strategies
Our 'Thrive' wellbeing and life skills program addresses this development and runs over two years for our Year 7 and 8 students.
The focus for the Year 8 part of the curriculum is on child protection and protective behaviours and aims to educate and increase awareness around; behaviour, resilience, assertiveness, personal space and body awareness, recognizing and reporting abuse, safe and unsafe risk taking, and how to seek help.
We are asking our families to partner with us by attending a parent focused information evening designed specifically for parents and guardians to help them understand the current issues students are facing and what families can do to help their children develop effective protective behaviours.
The Protective Behaviours information evening is for all parents and guardians (Friends of Kennedy Community are welcome) will be held on Wednesday 6 March from 5:00pm - 7:00pm in the Kennedy Auditorium.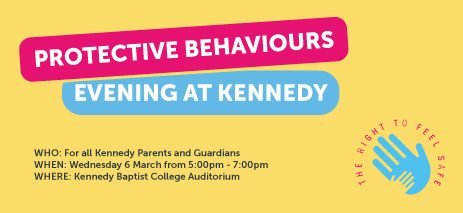 Andrea Musulin is a leading expert in child protection, teenager safety and cyber safety will present this session. This will be an informative and important night for the College.
We are excited about this program and look forward to the positive results and benefits it will bring to our students.
Mr David Orr
Protective Behaviours Coordinator
dorr@kennedy.wa.edu.au